Repairs
Down payments are $50 and non-refundable. (goes toward your payment for the repair)
Band repair (flute, clarinet, trumpet, etc.) estimates: $59 to $159
Saxophone repair estimates: $79 to $200
Violin/viola repair estimates:$40 for basic repairs to $60+ for sound post and body repairs
Cello repair estimates:  $75 for basic repairs to $150+ for body work.
Notification is NOT guaranteed unless repair estimate is over $150.
Repairs will take at least 10 days. During band season and Christmas  (August through December) repairs may take up to one month to complete.
BEN BRANCH
Guitar Setups
Including all guitar repair (neck, fret, etc.)


30 Day Warranty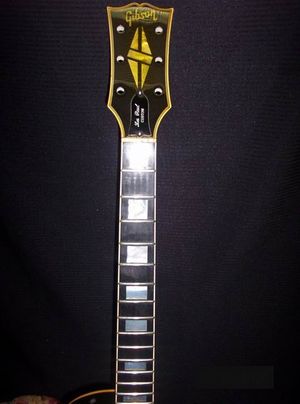 Gibson Les Paul Custom
Refinished by Sacchetti Music Repair Tech
Contact Info
Sacchetti Music
Huntingtown North
7 Oxford Way
Huntingtown, MD 20639
(Near Chancellor's Park Community)
(410) 257-7620
sacchettimusic@comcast.net
Email Mr. Sacchetti Anytime
2450@comcast.net
Check us out on Facebook!